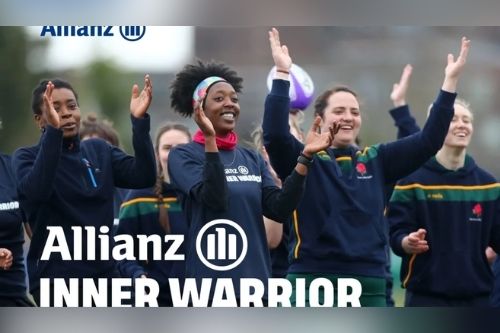 More than 20,000 women across the country have attended Inner Warrior camps since its establishment three years ago, according to a statement by Allianz. Many of them have gone on to join various women's touch and contact rugby teams.
Aside from being the title sponsor for the programme, Allianz will also host digital activities for member clubs in between the May and September camps.
Known as the Allianz Inner Warrior Challenge, the digital fitness initiative will allow those registered to log their daily activities and workouts, meet others who have signed up, and compete for spots on the app's leaderboard.
"Allianz is proud to be the Official Insurance Partner of England Rugby, sponsor of the England teams and title sponsor of the top flight women's domestic league," said Simon McGinn, general manager for commercial and personal, Allianz UK. "We're excited to join in the effort to improve and nurture the women and girls' game which is a strategic priority for the Rugby Football Union (RFU).
McGinn added that with increased grassroots support and more women and girls getting involved with rugby, the sport's prospects of growth in the UK are looking good.
"The Warrior camps have been a great success since they were introduced in 2017, and to have over 150 camps taking place across the country this May is very encouraging," said Clare Cooper, England rugby growth manager (women & girls).
"We are hugely grateful to Allianz for their support, and excited about how our partnership can develop to encourage even more women and girls into rugby over the coming years."