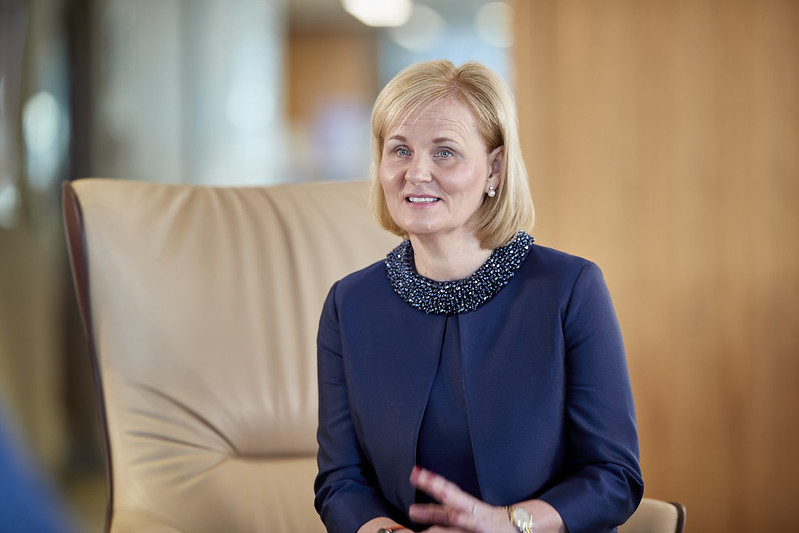 In the last 20 months the insurer has moved at pace, she said, and she feels it has made "tremendous progress". Aviva has completed eight disposals and collected £7.6 billion in proceeds, resulting in it becoming a much simpler business with market-leading positions in its core markets of the UK, Ireland and Canada. Its success with disposals has allowed Aviva to rebuild its financial strength and deliver a £4.75 billion total capital return to shareholders (subject to relevant approvals).
As to transforming its performance, Blanc highlighted that Aviva has generated excellent momentum across the board.
"Aviva is growing and growing profitably," she said. "Savings and retirement net fund flows exceeded £10 billion in 2021 – that's a record for Aviva. General insurance premiums are at their highest for over a decade at £8.8 billion with a combined ratio of 92.9%. Life insurance sales grew by 23%, driven in part by bulk purchase annuities with a record of £6.2 billion of volumes at robust margins."
Looking at the success of this strategy date, she emphasised how integral the group's people have been, and how important it is that they can share in the value they've helped create. Therefore, Aviva is giving each of its 22,000 employees £1,000 in Aviva shares to say 'thank you'. That people piece is a through line connecting many of the items addressed by Aviva in its recent earnings report.
"One key area I would like to highlight is the reduction in our property footprint," Blanc said. "We've already exceeded our original aim of a 30% reduction. And I'm delighted to announce that we will be moving our headquarters to 80 Fenchurch Street over the course of 2023. This will deliver a 47% reduction in our head office footprint, deliver significant cost savings and an improvement in our carbon footprint."
Blanc strongly believes that Aviva is a better company when it combines the benefits of its people working in the office with the opportunities that come with people being able to work from home. The team has done a lot of research into the subject, she said, and spoken at length with colleagues to determine that, on average, people are coming into the office about three days a week. That's the aspiration and the team is confident that this balance is right and sustainable.
During the media briefing, Blanc touched on several pressing topics of conversation in the marketplace right now including Ukraine, the recent Corbin & King ruling, rumours of Aviva establishing a Lloyd's syndicate and the insurer's plans for the general insurance market. She started the briefing with a reflection on the situation in Ukraine and the human tragedy that is unfolding there, expressing deep sympathy for everybody caught up in the turmoil and her hope for a swift end to the trouble.
Aviva has no operations in Russia or the Ukraine, she said, and has a very minimal exposure to Russia via its Aviva Investors business. That exposure is less than 0.1% of some of its Aviva Investors funds and the group will be divesting of that exposure as soon as it practically can.
On the recent ruling with regards to non-damage denial of access cover in the case of Corbin & King vs AXA, she highlighted that Aviva is not directly involved in the litigation but will be examining the judgement in detail. The expectation is that the outcome of the matter will not have any material impact on Aviva, she said, but she imagines every insurer will be undertaking similar analysis of the situation.
Concerning the rumours of Aviva establishing a Lloyd's syndicate, Blanc said: "We look at all of our options to see what distribution opportunities we might or might not be considering. Lloyd's is a topic we will keep under review, but there's no final decision that has yet been taken."
Aviva's acquisition of Succession Wealth for £385 million is an example of how the insurer is looking to conduct its M&A activity – by seeing where capability gaps exist and bridging those gaps with the right deal. Looking into whether Aviva is open to acquisitions across the general insurance space, she said the group has very strong market positions, particularly across its general insurance business which occupies the number one position in commercial lines and a strong, growing position in the retail market. Any M&A opportunities will therefore centre on further strengthening that offering.
"[As to investment in regional brokers], Adam [Winslow, UK & Ireland GI CEO] has got some really exciting plans to grow in the regional market," Blanc said. "We've already got a really strong position and with our Fast Trade broker platform, I think we've seen some really great growth. So, he's getting on with recruiting regional underwriters… We're on track to continue to invest, we strongly believe in the importance of the regional broker market and a vast majority of Aviva's business is intermediated. We want brokers to succeed, and we want to help them succeed."