It was a massive disappointment at the time but also a real relief, she said, as she could tell herself she had been prepared to do the talk, to face her fears around speaking on camera, without having to actually go ahead with it. When the organisers announced they were going to do the event virtually, Talbot Jones knew she had the chance to withdraw gracefully but she's delighted that she didn't, especially considering the resonance her talk has had with viewers.
"It's been a really exciting opportunity," she said, "because I think that so often, insurance and risk management is seen as something quite grey and boring. Risk management is seen as the thing that stifles opportunity, so it's just been great to be able to stand up and spread the message that actually, insurance and risk management is really exciting. It's a great career, it's a great industry and it really supports resilience, or antifragility."
The profession has found an active cheerleader in Talbot-Jones, who joined the sector several years ago after a decade in teaching. She has become a relentless pursuer of fearlessness, she said, having spent about decade of her life not doing things because she was convinced she couldn't. This hasn't been restricted to the significant growth and evolution of the brokerage Talbot Jones either – it also comes across in the professional qualifications she pursues and the activities outside work she enjoys. For years, she said, she would stand on the side of the Great North Run and shout herself hoarse encouraging the runners, wishing that she was the kind of person who could do what they did. And then one day, it clicked, she could technically do as well as at least some of those runners, and so she started her own strategy of running, which saw her build up the stamina to eventually run a half-marathon.
"That's the challenge, when you think 'I could never do that' and then you ask yourself 'well, would I like to?' And when the answer is 'yes', then you can find a way to do it," she said. "As the saying goes, whether you believe you can or whether you believe you can't, you're right. When you've decided you'd like to do something, it's then you make it happen. You work hard, and you achieve it."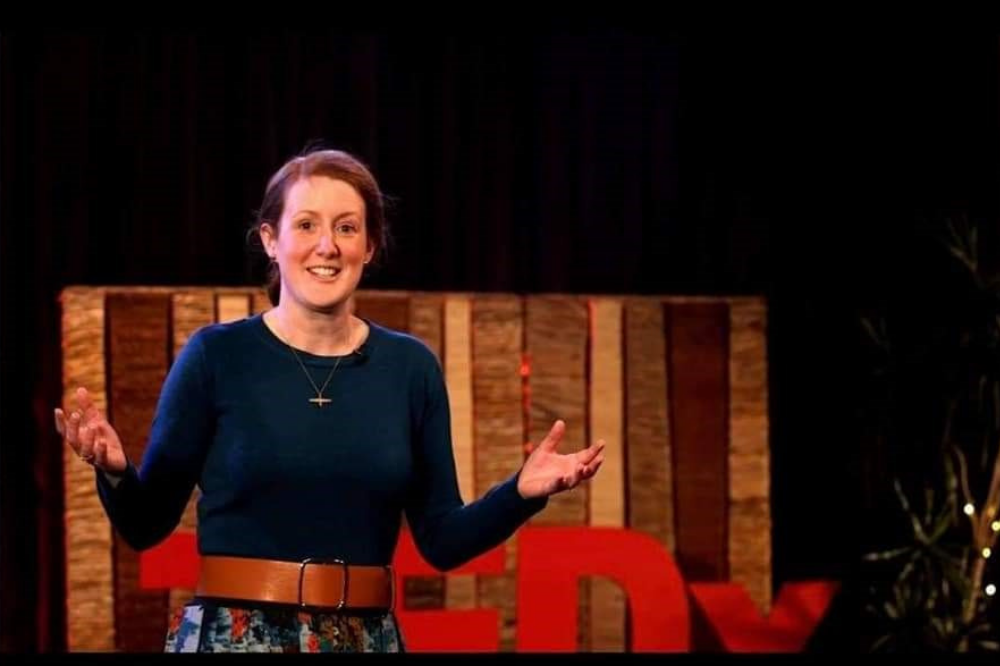 Choosing the topic of her TEDx talk was relatively easy, Talbot-Jones said, as when the the brokerage was being launched and she was new, both to insurance and business, she spoke to a marketing expert at an event who advised her that the easiest way to sell insurance is through fear. As soon as she heard that, she knew that wasn't the kind of business she wanted to grow and it wasn't how she wanted to represent the insurance industry.
"That was very early on," she said, "and it was quite an important moment for me and really clarified what I wanted to do, and what I wanted our business to do. We don't want to sell insurance through fear, we want to support organisations to better understand and manage their risks so that they can do impactful and exciting things. That's at the back of our mind but it's also at the front of our mind as we go through our business. What we do is help people plan, assess risk and put things in place so they can move forward with confidence – and it's so exciting to know I'm part of that."
Read more: Brokers discuss the merits of embracing social media
Doing the TEDx talk itself was a fascinating experience, Talbot Jones said, and the process behind the scenes was incredibly intricate, with the organisers putting in a huge amount of work. She was initially looking forward to the opportunity of developing her public speaking skills in front of an audience, so the virtual nature of the event which meant it was just her standing in front of a camera was incredibly unnerving.
"But I'm really proud that I was able to live out what I say in the talk and what I shared about actually working out what the obstacle is, and [establishing] whether it is a valid fear or whether it's something that I actually recognise isn't important," she said. "I did it. I stood up in front of the cameras, and it was hugely daunting and it was really difficult. But I'm hugely proud of myself that I did it and really pleased it's being appreciated and valued."
What better testament could you have to such an experience than saying you would be delighted to repeat it? Talbot-Jones noted she would absolutely be keen to take the opportunity of partaking in such a conference again, and of having the chance to do so in front of a live audience when COVID restrictions are lifted. In fact, without giving away any spoilers, she already has her next topic chosen and is waiting for the right opportunities to continue discussing her insights and experience with a wider audience who have shown they are listening.