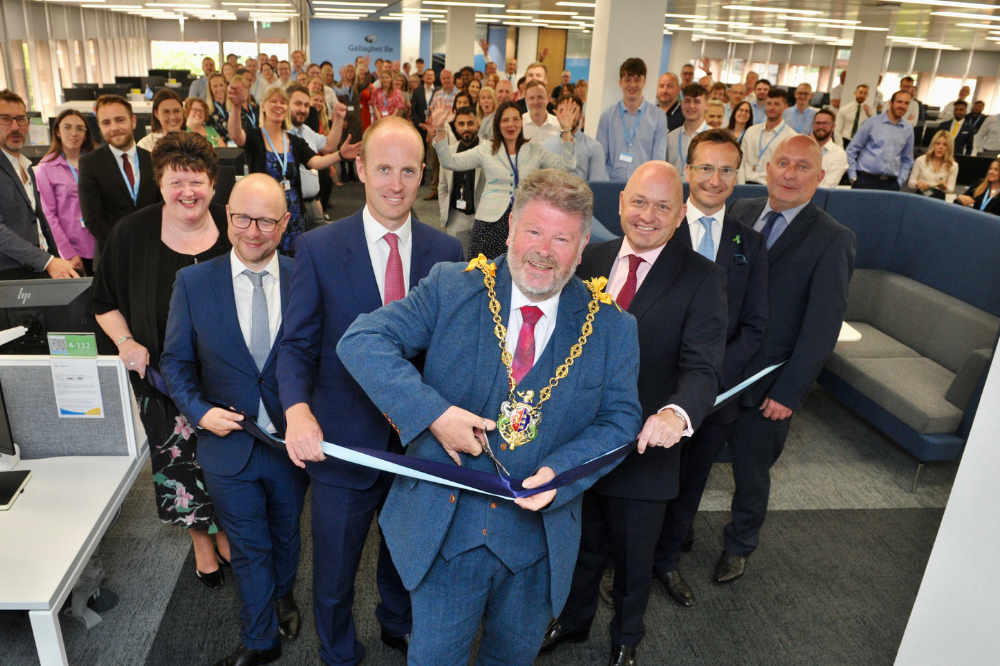 The opening celebrations were attended by Ipswich mayor John Cook, who cut the ribbon and unveiled a plaque at Gallagher Re's newest office. He was joined by several members of Gallagher Re's senior management team, including global CEO James Kent, global COO Chris Brook, UK CEO Tom Wakefield, and UK COO Simon Behagg.
"Investing in the creation of a new regional office space here in Ipswich, specifically designed to support flexible and agile working, underlines our commitment to the local area by creating diverse and dynamic roles for those just starting out in their careers, as well as experienced, seasoned insurance professionals," Kent said. "Across Gallagher Re's global footprint, we commit to serving our clients locally helping local communities such as Ipswich thrive with the creation of multiple career opportunities for local talent. Our existing Ipswich based colleagues will greatly enjoy connecting and collaborating in this new space, and we look forward to welcoming many more in the weeks and months to come."
Gallagher Re said new recruits will be supported by tailored training programmes and offered competitive salaries and benefits, as well as excellent working conditions. The company's significant technology investment at the new Ipswich hub seeks to create a flexible and collaborative environment to ensure the best possible outcomes for employees and clients.
"The insurance industry is vitally important to the Ipswich economy, and I am delighted to open the new Gallagher Re office as they continue to support our local community," Cook said. "Ipswich is a great place to live and work, and I am excited that Gallagher Re will be recruiting locally and providing career opportunities for the community that will only have a positive impact as we cement our relationship going forward."