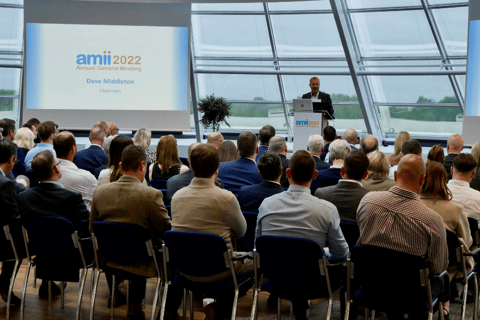 Nearly 100 people attended this week's annual general meeting of the Association of Medical Insurers and Intermediaries (AMII) in Warwickshire – hearing from speakers including former BBC and Sky news correspondent Mike McCarthy, whose son took his own life more than a year ago during lockdown.
In McCarthy's keynote speech, which was delivered in the middle of mental health awareness week, the journalist shared his personal lessons in loss and hope. McCarthy has been campaigning for better mental health provision in the UK since his son's passing.
"We have had hugely positive feedback from what was a thought-provoking, and at times very emotional event," said executive chair David Middleton (pictured) of the May 11 gathering at the British Motor Museum.
"Mike McCarthy's talk was incredibly powerful. Most of the audience were in tears and he got a standing ovation. The lessons we can all learn about Mike's tragic loss were particularly resonant during mental health awareness week."
AMII, which has more than 120 intermediary and insurer members, highlighted that suicide is the biggest cause of death for men under 35 in the country.
Meanwhile, the other speakers were Bupa Global medical director Robin Clark, Myogenes chief executive Clare Brenner, and Branko Ltd director Branko Bjelobaba.
The latter spoke about the new consumer duty rules, as well as the issue of multi-occupancy buildings insurance; Brenner tackled tailored patient diagnostics and treatments; and Clark discussed innovations in cancer screening, diagnostics, and prognosis.
"We heard some fascinating insights into the potential future of healthcare diagnosis and delivery, home testing, and the power of our genes to fuel the development of truly personalised healthcare," noted Middleton.