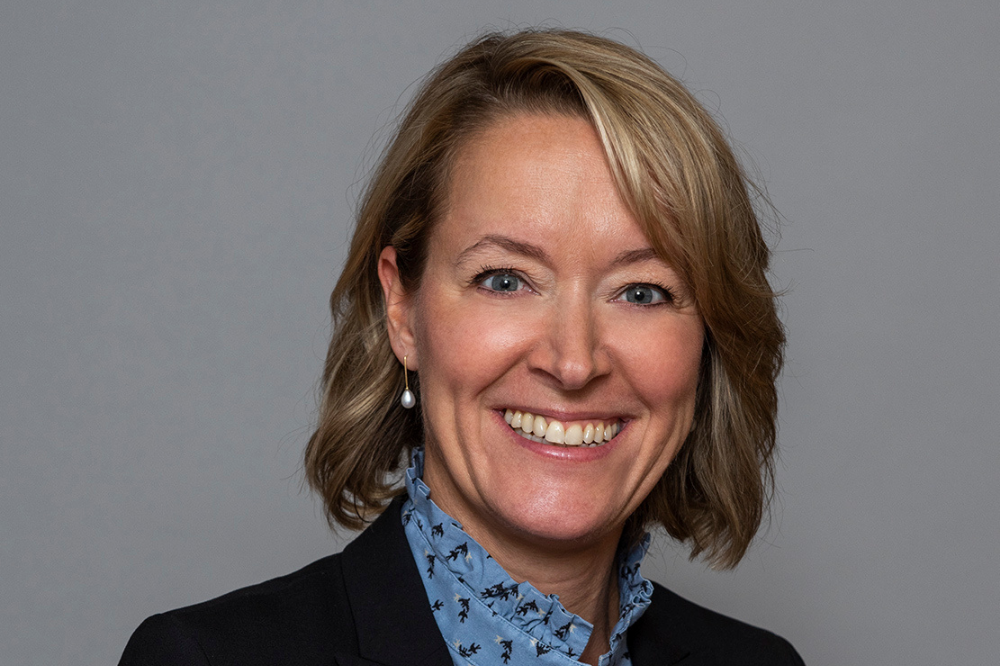 But as highlighted by Carolina Klint (pictured), risk management leader, Continental Europe, at Marsh, the report does not exist to simply pinpoint concerns but also to identify how they intertwine and where work can and must be done to mitigate them. Finding solutions rather than analysing problems is at the very heart of what Marsh McLennan does, she said, as it works at the coalface of advising and protecting its clients.
"We want to make this real, not only hypothetical but [reflecting] the things that companies are challenged with, and the need to think about solutions to them and to really think about how to improve resilience and build flexibility into processes and structures," she said. "That's so they can bounce back when things like this happen, like the pandemic or other systemic risks, such as floods or extreme weather events."
The past two years have been something of a heyday for risk professionals, Klint said, because all of a sudden talking about risk seems a lot more popular. She has seen from her industry conversations that there is an increased acceptance of the role that risk management plays in safeguarding the future. The focus of many leaders has shifted to the 'Governance' element of ESG, which encompasses everything from corporate structure, to corruption, to bribery, to ethics.
Yet despite the evolving nature of the risks faced by businesses, there is a clear through-line between them, as identified clearly by the Global Risks report – that is the complexity and interconnectivity of risk. Klint noted that by examining any single risk you can also see it exacerbates or accelerates other risks. It's like an enormous bowl of spaghetti, she said, and if you start pulling one strand everything starts moving which makes it very difficult to manage.
During a webinar discussion on the findings of the report, Klint emphasised that by building real partnerships between the public and private sectors based on new approaches to risk mitigation, allocation and data sharing, the choices can be made now that will enhance risk preparedness and resilience going forward. By taking these steps now, when the next crisis occurs, businesses and individuals will be ready to respond with greater agility and cohesiveness.
Exploring this further in an interview with Insurance Business, she noted that the global environment is now thinking about such partnerships in a new light. For instance, she said, the unprecedented speed of the COVID-19 vaccine development wouldn't have been possible without the collaboration seen between the public and private sectors.
Read more: Zurich CEO: Public-private partnership needed for systemic loss events
"Also, in terms of the insurance industry, there have been a lot of discussions and efforts towards finding insurance mechanisms and then a better structure to address the protection gap that the pandemic exposed," she said. "[There's more] discussions around how to manage systemic risks in a much more creative way. And I think what has happened is that the pandemic really exposed that these claims can be quite dramatic, and it's not really fair to expect a private insurance company to carry that weight alone. It just doesn't work.
"But what could make sense is to have a public-private solution for pandemics or other systemic risks involving the insurance sector, of course. And that could offer many benefits over government crisis loans or grants because it could then include the efficiency and fairness and also the incentives for risk reduction that the insurance industry can represent. So, in terms of public-private partnerships, that insurance lens is really interesting to watch."
The move towards developing strong, long-lasting partnerships is part and parcel of developing a more sustainable, resilient world, she said, and it's definitely part of the agenda that Marsh McLennan is looking to foster among its clients. She believes the involvement of the insurance and reinsurance industry in distributing coverage and assuming risk is an essential factor in building future resilience.
Klint highlighted that resilience is a journey, not a destination and that it needs to be built up at both local, national and global levels. With so many considerations currently facing organisations, starting a resilience journey likely seems a bit overwhelming and so she shared her key tips on how to get started. For companies just starting to think about resilience, the Global Risks Report is an incredibly valuable tool for the insights it shares on the changing risk landscape, she said, so reading the report is a very good starting point.
Another tip to be found in the report is the key takeaway that among the many factors critical to managing and recovering in the constantly changing risk environment, adaptability and trust are essential. Businesses need to be ready to adapt response strategies based on quickly evolving circumstances, she said, while another element is fostering trust that these strategies are being founded on science-based decisions. The problem of social cohesion erosion is a risk raised by the report, and so organisations need to focus on rebuilding trust in their decisions and strategies, by effectively communicating how these have been reached.
"And so I think that's a way to get started," she said. "But it's also in terms of leveraging diversity as a tool for a truly holistic view of the evolving risk landscape. Because one of the things that we've seen is that companies that actually push for collaboration and a non-siloed approach to looking through their risk registers, to really connecting risks with strategies, and to leveraging all of those different areas of expertise that are available in their companies – those have fared better throughout this pandemic and will probably be more ready and more flexible and agile as we move forward and maybe come up against other threats."