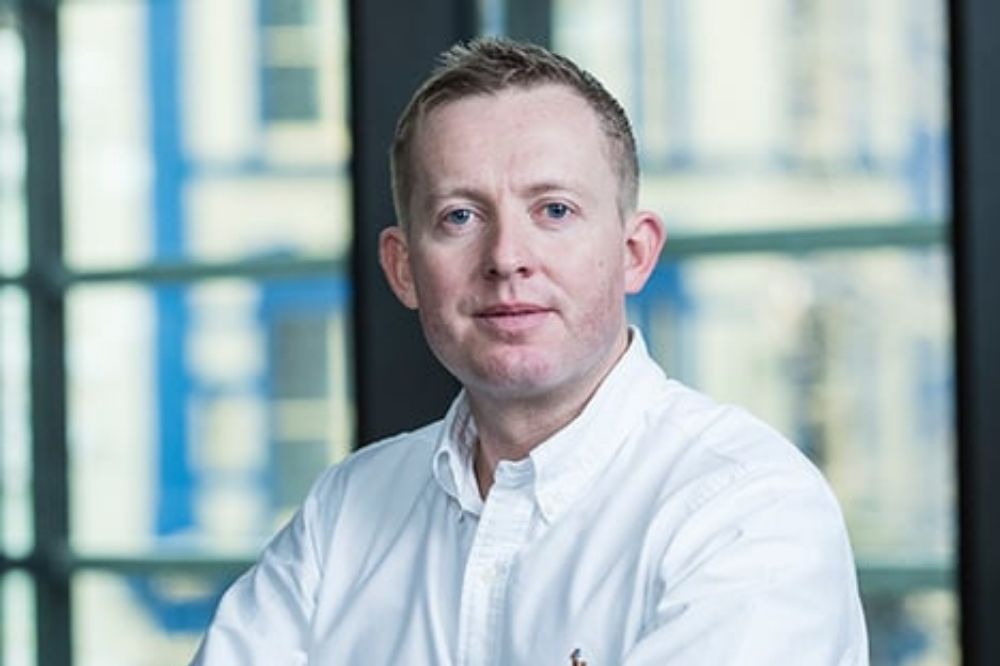 It has been a remarkable journey for Mooney (pictured) who kickstarted his career in insurance some 23 years ago when he joined RSA straight out of college as a casualty underwriter. From that foundation, he has crafted himself an eye-catching career, with each new update taking him one step closer to this new role. There are a lot of elements to get his arms around as MD of the commercial lines business, he said, but he feels primed for the next step having done so many of the roles that sit within its purview.
"We're now embarking on the next stage of our strategy which is [exploring] how we take all of our component parts out of remediation (which they are all coming out to an extent now), and then truly get back to being a visible partner of choice," he said. "It sounds easy to say but it's going to be difficult given where we are and the headwinds we're all facing into. There's a lot that we need to do while keeping the lights on, and there's a lot of strategic changes to implement to make sure we're fit for the future – and to take us forward."
Backed by a quality partner in Intact and a team of passionate individuals, the commercial lines business is geared up for a busy 2022. While there's a lot to do, Mooney said, it's all the exciting elements that are left – from how to invest, how to grow, and how to become a better partner. This is all building on the strong remedial work RSA has been investing in across its commercial lines businesses.
There's simply no appetite for the business running before it can walk, he said, and as it moves out of this remediation phase, RSA's commercial lines business is centred on listening to what its partners are saying and, by doing so, becoming a stronger customer service partner. He wants the business's partners to have "trust and clarity" in RSA's appetite, as well as simplified access to its services.
"Because I truly feel that, at times, as an industry and as an insurer, we have quite a selfish overlay of our internal structures on our partners," he said. "And we need to take a step back and we need to look at, 'if I was a broker on that journey, how would I navigate such a complicated corporate machine to get the best for my customers?'
"The way I see it is that I want our brokers to spend all of their time with customers, not trying to navigate a solution from an insurer. [The industry] has really flipped that the wrong way round in that the broker probably doesn't spend enough time with the customers, in part because they're trying to navigate a complicated market, in a hard market where there are fewer opportunities and fewer options."
There are three key focuses to Mooney's ongoing strategy as MD of the commercial lines business in 2022 and beyond – distribution, service and proposition. Exploring the distribution angle, he highlighted that previously this has been built on one premise – to correct course on and simplify the insurer's expense base. Naturally, this has led to the distribution model becoming more compressed, which means some regional brokers and existing brokers alike have sometimes struggled to access RSA.
"My simplistic view is that if you're a partner of RSA, you get access to all of our propositions," he said. "There might be different dials in respect of what access you get but we're no longer having a closed-door culture where you can only deal with us on [e-trading] or in mid-market, or in specialty lines. We want a real sense of partnership built on characteristics and behaviours… one built on the open-door philosophy that we can partner better together."
Read more: RSA's Lee Mooney reveals how he drives growth
RSA is not at the end-game with this yet across all its models, he said, but it's investing heavily in these structures and bringing in new broker partners all the time. Getting that distribution piece right leads to the second element of his strategic focus – service. For Mooney, the service proposition of RSA needs to be that the business doesn't look at customers as products but rather in totality – and so forms a proposition based on their understanding of clients' unique requirements.
There are parts of its estate where those dots simply aren't being connected as it stands, he said. So, the emphasis for the team is on providing a seamless solution and making sure RSA offers prompt responses with a clearly defined appetite, with real clarity of milestones and of what to expect next on the service agenda. Whether you're in SME, the regions business or in delegated, he said, he wants a consistent response that looks and feels like RSA.
Getting those distribution and service elements right will allow the team to focus on the exciting bit – proposition. From Mooney's perspective, this proposition piece will be the gamechanger for the business going forward. RSA is looking at how it can remove the divide between e-trade, manual trading, and SME and regions, he said, as it is the business that sits between those existing silos that makes up about 85% of a broker's book, especially in the regional space.
"The solution for [that business] is clunky," he said, "because you're trying to make it fit on e- or you're trying to navigate away and get manual intervention to look at it. And all that's doing is subconsciously overlaying our internal structure on a broker and providing a point of friction in a part of the trade sector which should be really simple and seamless… Because if we have friction then we are reducing our partners' bottom line but we're also not providing the right solution."
Mooney is therefore looking at building a ground-up solution where RSA has choice points the broker can navigate to, which will be either manual or e-trade, and RSA will no longer transpose its external expense structure on the broker. This means brokers will have sub-£10,000 manual traded solutions with RSA.
"We're not there yet and we will be announcing this over the next few weeks and months," he said. "We're doing some pilots in various parts of RSA at the moment to make sure it's the right thing for our partners. But every single partner I've sat down with needs that mid-market e-solution, where if they are e-savvy and they can use it and it fits through, then that's brilliant, but if it doesn't then we've got our experts ready to help. Whether it's £2,000 or £10,000 or £1 million – you can access our service expertise and that will be the significant change in respect of how we're pursuing our growth agenda moving forward."