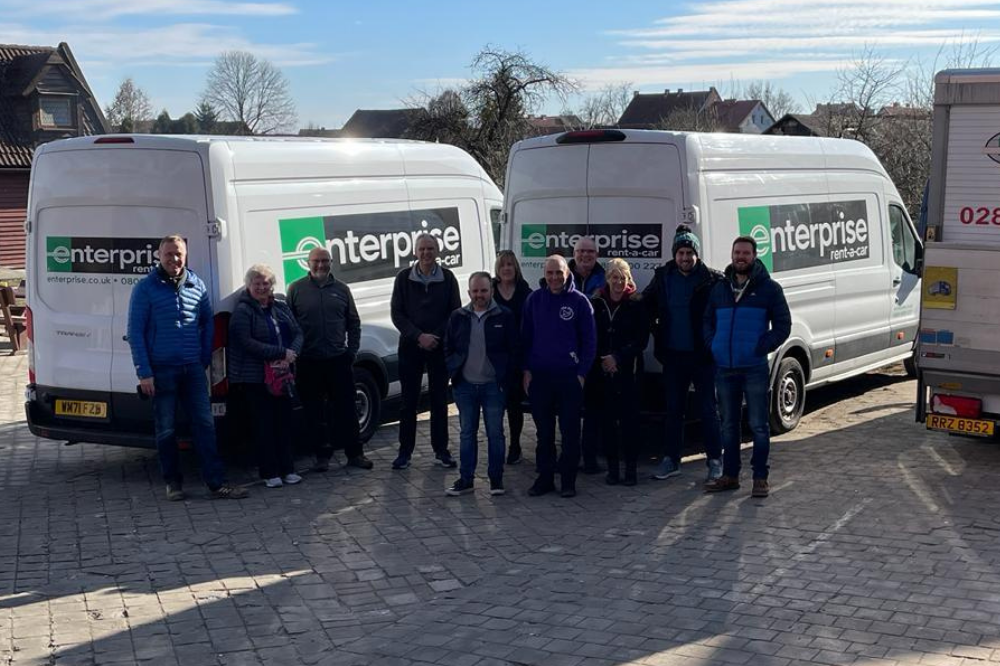 "We were asked if we could assist in any way," she said. "Originally, we said 'right, we can send one van or maybe two', and we put out the call for aid, both for financial aid and for practical aid – that's clothes, washing machines, fridge freezers, toiletries, medicines, baby stuff etc. We've already received a lot of financial donations, in total about £29,000, and £10,000 of that has already gone to Poland.
"[…] The response was just mind-blowing. The amount of aid and financial contributions we received across the community was unbelievable, as well as the assistance we received in trying to sort it all out and box it up. Everything was boxed up and labelled so that when I got to the refugee sites, it was obvious who everything was for. In the end, we were able to send five vans across and we had two drivers in each. It was a completely cross-community effort, and the generosity of people was phenomenal."
The open-heartedness displayed by her colleagues across McLarens and the wider sector has been so remarkable that The Joy Foundation is now planning a second trip over the Easter weekend because, even after five vans, there are still enough donations to fill at least two more. It just keeps coming, she said, and the publicity the charity has received has been incredible, allowing it to widen its scope and help so many individuals and families.
It doesn't end here, she said, and The Joy Foundation is already planning further trips. While the team have worked with two of the camps to date, others require support – and the foundation is being kept up to date with pastors on the ground to determine what aid is required.
"Our second trip is going to be aimed specifically at what they need," she said. "There's no point in continuing to take reams of stuff if they don't need it. One of the requests that has come through is that they need a lot of medicines, even things like throat lozenges etc. They're asking for more medicinal [aid] and they've asked if we can try to get educational products.
"So, we're trying to get documentation printed in Ukrainian that the kids can use because, obviously, their education is going to suffer while they're relocated. All these things have to be taken into account and if we can sort it out, we will."
The Joy Foundation's JustGiving page is still open, McMillan said, and the financial factor to the aid required by the Ukrainian refugees is a key element of the next wave of support required. This effort isn't a one-off and, as a result, it requires ongoing assistance. She highlighted the response the charity has received from local transport companies – particularly a company called McBurney Transport which sponsored all its vans and paid for its boat crossing.
"I got to be in the truckers' lounge which was quite the experience! They were more than generous," she said. "And it costs a lot of money to get the vans out there if you have to hire them, especially with the price of fuel at the minute. It costs us quite a few thousand to get them there and back again, so we're hoping that financial contributions will continue because that's what we're going to need more of going forward."
Read more: Russia-Ukraine war: CEO on what's happening on the ground
When you arrive at the refugee camps, she said, you realise how much aid and support is required – but it's also an incredibly gratifying experience. She recalled arriving on the first day and the initial wariness of the children gathered there. A friend, who is a child-minder, had the right idea, McMillan said, and brought along a giant bag of sweets and toys – the universal language of children – which quickly went down a treat.
"And the end of it all was that, before we left, it was interpreted to us that the people we were delivering aid to wanted to make us a cup of tea and cake," she said. "We said 'yes' but when we went in we couldn't believe it, in fact, I was mortified because these ladies had made us a full meal. They made us chicken soup and bread, and meat and potatoes. We were sat there thinking 'do we eat this?' And the pastor interpreted that if we didn't, we would offend them. So, there was us coming to people who have nothing, and they were proud to give us what was essentially their last mouthful. It was very humbling."
McMillan's own experience is a testament to how rewarding it is to get involved with charitable works and she encouraged everyone to get involved. You don't have to have any particular skills or be able to drive to Poland – donations or practical aid are both great ways to get involved.
"It's a totally cross-community effort," she said. "We're a Christian charity but we're non-denominational and we have people from all walks of life, all denominations. It's literally just a case of getting stuck in and getting it done, and whatever you can do will be greatly received."
The Joy Foundation is only one local charity, McMillan said, but there are so many people doing similar things, who have got themselves out of their comfort zone to rise to the occasion.
"It's wonderful to see it," she said. "And it just shows you that in a crisis, everybody will respond, whether it's here, whether it's in Poland, whether it's in Ukraine. It doesn't matter where the demographic is – human nature is good and will respond when required.
"It's not hard to show kindness to somebody. It's a tough world that we all live in. I'm at the other end of it. I'm 60 and watching my grandchildren growing up, and hoping that it's going to be a better world for them. And if I can influence that in any way, that's all I want to do."